Olive Garden Parmesan Roasted Asparagus was a recipe that was requested by so many of you that I had to make a special trip out to one of my best-loved restaurants, the Olive Garden. They have a new menu item as part of their lighter fare, and let me tell you; it is delicious.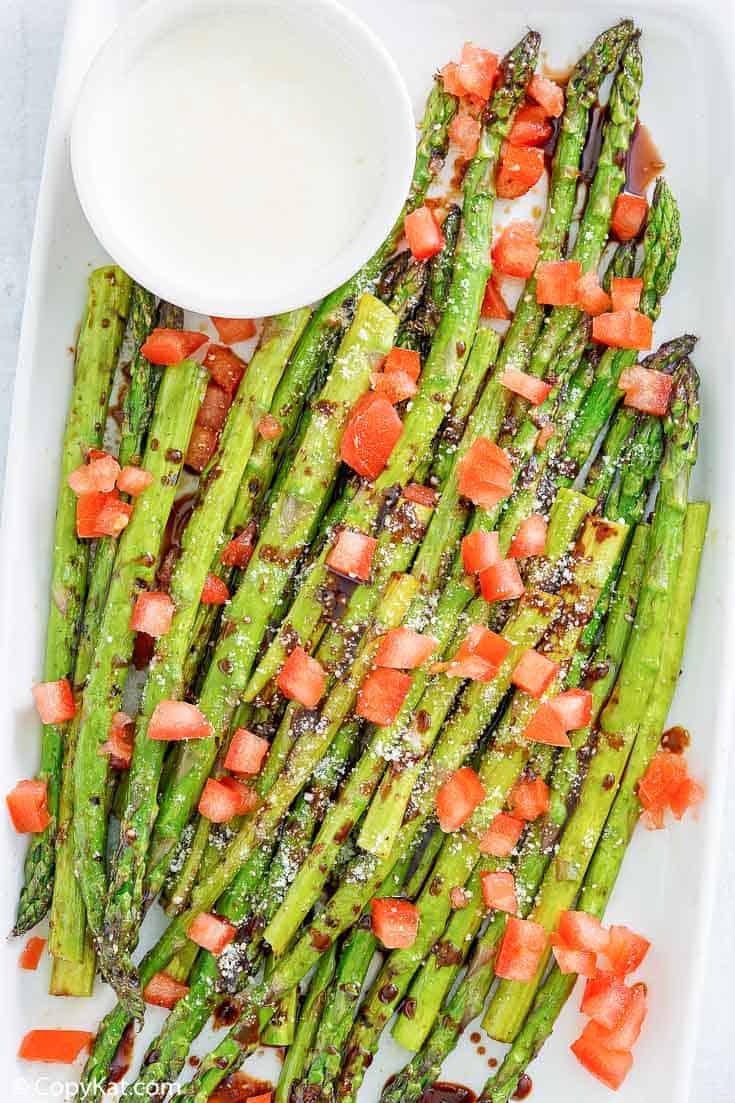 You may wonder how to cook asparagus. You can prepare asparagus in many different ways. You can enjoy asparagus raw, sauteed, roasted in the oven, or grilled.
Ingredients
1

pound

fresh asparagus

2

tablespoons

vegetable oil

1

teaspoon

salt

1

cup

balsamic vinegar

1/2

cup

heavy cream

2

tablespoons

grated Parmesan cheese

for the sauce

1

tablespoon

Parmesan cheese for garnish

1

lemon

optional

2

teaspoons

chopped tomatoes
Instructions
Prepare balsamic vinegar reduction by adding 1 cup of balsamic vinegar to a small pot. Heat on high until the mixture boils, then turn down to simmer for 20 minutes. The reduction should yield 1/2 cup of vinegar. Store in an airtight container.

Prepare asparagus by cutting off about 1 inch of the bottom end of the asparagus, lay asparagus on a sheet pan drizzle with oil and sprinkle with salt. Roast on medium heat on a grill for about 10 minutes turning the asparagus over.

Cooking time with vary with the thickness of the asparagus. Remove asparagus from grill when done. If desired squeeze 1/2 of a lemon over the asparagus. I do not think the Olive Garden does this, but I think it really helps to bring out the flavor of the asparagus. Prepare Parmesan sauce by adding heavy cream and 2 tablespoons of grated Parmesan cheese in a small pot or skillet.

Simmer on low for about 10 - 12 minutes. The cream should reduce by 20% in volume. To prepare plate some of the cooked asparaguses on a plate, drizzle balsamic vinegar on top. Garnish with 1 tablespoon Parmesan cheese, and then serve with the sauce. Garnish with fresh chopped tomatoes if desired.
Recipe Tips for the Cook
If you can only find large asparagus, you can peel the stalk with a vegetable peeler, this will peel away the tough part of the asparagus!
Nutrition
Calories:
258
kcal
|
Carbohydrates:
16
g
|
Protein:
4
g
|
Fat:
19
g
|
Saturated Fat:
13
g
|
Cholesterol:
43
mg
|
Sodium:
672
mg
|
Potassium:
322
mg
|
Fiber:
2
g
|
Sugar:
11
g
|
Vitamin A:
1315
IU
|
Vitamin C:
6.6
mg
|
Calcium:
106
mg
|
Iron:
2.9
mg
Share this